The Wall Street Journal
The Folding Bike Goes Cool
Once the pocket protector of the cycling world, these adaptable rides have evolved into a stylish mode of transport
By MICHAEL HSU
As appered in GEAR on October 9, 2010.
The appeal of foldingbikes goes beyond the fact that they're easy to transport and store. One minute, these bikes are cruising down the street. The next, they've contorted into an impossibly tight space with a bit of mechanical sleight of hand that can be as mesmerizing as seeing Optimus Prime turn into an 18-wheeler.
Despite, or maybe because of, their acrobatic prowess, owning one has always had a certain nerdiness attached to it. Like a calculator watch, they're just too convenient to be fashionable. And because early foldingbikes were created by engineers rather than designers, many have been pretty clunky looking.
But folding bikes are now mainstream (many of the major bike manufacturers offer at least one model). Some have co-opted the style of their more respected full-sized brethren. Others, like the classic Brompton, have become icons themselves.
With a dizzying number of foldingbikes to choose from, one size does not fit all. For our lineup, we eliminated the smallest (you know, anything a clown might ride). Their tiny wheels can make the bike's handling disconcertingly hyper-responsive (a slight turn of your handlebars will send you careening over the curb). At the other end of the spectrum, we included bikes that may be too big to store in a studio apartment but break down easily for travel—perfect for a drive, or even a flight.
Not surprisingly, a folding bike will cost more than a similarly outfitted nonfolder. They have more moving parts and are subject to greater stress because of their diminutive size, so build quality is crucial. And although foldingbikes will have fewer speeds than you may be used to, the stripped down configuration is actually better suited for relatively flat urban environments. For relatively flat cities, a three-speed bike will do; those in hillier terrains may want to opt for six.
Live in a tiny apartment? Need to ride the train for part of your commute? Can't keep your bike on the street because you're surrounded by KGB-trained bike thieves? However specific your needs may be, a folding bike may be the most practical—and now—most elegant solution.
Easy Cruiser: Citizen Bike - Barcelona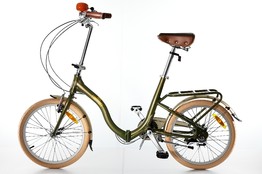 If comfort and value trump speed and compactness, then you'll appreciate this bike's laid-back sensibility. The bike's step-through frame makes hopping on and off a breeze, while its swept-back handlebars (with cushy grips) ensure an upright, more natural riding posture. Despite being Citizen's top-of-the-line bike, this three-speed cruiser's most agreeable feature is probably its price. Citizen ships the bike directly to you, folded and fully tuned for both cost savings and convenience. $394, citizenbike.com
Photo: F. Martin Ramin for The Wall Street Journal